PORTABLE DRILLING EQUIPMENT FOR SURFACE SOIL INVESTIGATION
Handy ECO
Hydraulic Portable Investigation Equipment to realize comfortable works.
Possible to drill approx. 6m for pollution investigation.
Possible to penetrate up to on or about N-value 10.
Due to external hydraulic unit, Exhaust Gas & Oil will not scatter to the operator.
Features
Drill Unit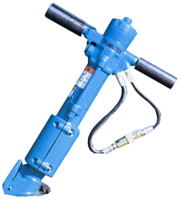 Easy to operate by hydraulic driven and light weight.
Possible crush rocks and hard soils and drill by augers. (Option)
Hydraulic Unit
Possible to realize the steady working by hydraulic unit built-in 4cylce engine.
Hydraulic Jack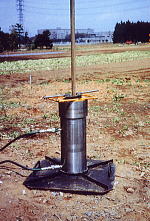 Hydraulic Jack pull up sampling rods. (Pull Up Capacity:10ton)
Specifications
Drill Unit
Outward Size
605 x 412 mm
Weight
15.5 kg
Knocking Energy
69 J (7 kgf ・m)
Knocking Number
1100 bpm
Shank size
1" Hex. Shaped x 108mm
Hydraulic Unit
Outward Size
550 x 430 x 585 mm
Weight
37.5 kg
The specifications are subject to change without prior notice.