AUTOMATIC DYNAMIC CONE PENETRATION TEST MACHINE (RAM SOUNDING TEST MACHINE)
CRS-12-2
We made Dynamic Cone Penetration Test full-automatic so that you investigate hard and deep ground correctively.
It can be applied to investigation and judgement for liquefaction.
Comparing with Standard Penetration Test by Drilling Machine, it become very shorter and easier to work from arriving at site to completing measurement by made it compact and self-propelled.
It has equivalent ability of penetration to Standard Penetration Test equipment and has equivalent mobility to Swedish Sounding Test machine.
It can grasp the strength characteristics of very soft clay layer accurately by adopted the standard of knocking device. As a result of applied to high precision sensors, it can proceed self-sink measurement. Even if CRS-12-2 is under knocking, it stops knocking suddenly when self-sink is occurred.
It can investigate easily even if "layer of N value is over 30" and "Depth is over 20m"
It can collect the sample of soil and measure the ground-water level by soil sampler "Hyper Dojo-Sukui" and Strainer Pipe. Therefore, it can be adopted as investigation and judgement for liquefaction.
Measurement situation can be checked with touch panel.
Measurement result can be outputted by built-in printer and can be checked on the spot.
Test data can be saved by USB memory stick. Test result can be processed and outputted visually by data processed software "R-ware" and "Ground search (Cloud version). (Option)
Features
◆Dimension and Weight of Dynamic Cone Penetration Test Machine
Dynamic Cone Penetration Test Machine
Japanese Standard
ISO
Ram (SRS)
DPSH
Sign
Unit
CRS-12-2
Standards of Japanese Geotechnical Society
DPSH-A
◆Knocking Equipment
Hammer Weight
m
kg
63.5±0.5
63.5±0.5
63.5±0.5
Fall Height
h
mm
500±10
500±10
500±10
Hammer Outer Dia.
Dh
mm
246
–
–
Total Weight
kg
81
115
–
◆Anvil (Knocking Block)
Diameter
d
mm
120
50<d<Dh
50<d<0.5Dh
Max. Weight
m
kg
17.5
18
18
◆Compared with Standard Penetration Test
Easy making reports without record!
Application for Data Processing, Analyzing and Report Creating
"R-ware" and "Ground Research (Cloud version) are the applications for Survey Data Processing, Analyzing and Report Creating shortly automatically.
Supporting Equipment of Ground Investigation for liquefaction.
Soil Sampler

"Hyper Dojo Sukui"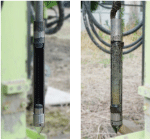 Knock and penetrate "Hyper Dojo Sukui" to predetermined depth in the target point. Then, rotate it and circumferential soil sample can be collected.
Specifications
Name
Dynamic Cone Penetration Test Machine
Model
CRS-12-2
■Hammer Fall Equipment
Type/th>

Hydraulic Cylinder + Free Fall Equipment

Hammer Weight
63.5kg
Hammer Fall Height
50cm
Knocking Number of Times
20times/min
■Feed
Type
Hydraulic Cylinder Feed
Feed Speed
0~6m/min (UP)
0~9m/min (DOWN)
Feed Stroke
1,350mm
Pull Up Capacity
39.6kN(MAX)
■Spindle
Prime Mover
Hydraulic Motor Driven
Rotation
7min-1
Rotation Torque
500N・m(MAX)
Rod Chuck Type
Hydraulic Chuck
■Crawler
Model
0.028m3 Class
Driving Speed
High4.0 Low2.1km/h
Engine
9.2kW/2000min-1
■Dimension
Dimension (L×W×H)
2,350×830×2,570mm
Weight
1,745kg (Without Rods)
The specifications are subject to change without prior notice.